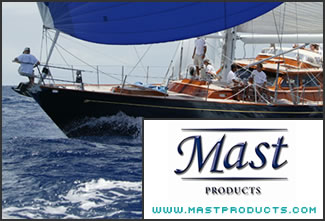 MAST Products is a designer, producer, and supplier of Marine mast steps and smart LED lighting systems. Since the founding of our small Dutch company, we have focused on developing an innovative range of products that will increase comfort and convenience on board.
From our LED lighting fixtures and replacement bulbs which offer a 50,000 hour life cycle, to our line of folding mast Steps, Mast Products are designed to make boating relaxing and fun.
The Mast Steps are manufactured from a special combination of Nylon / Glass fiber which together with it's design gives the step a safe working load of 140kg (310 lbs).
The steps are positioned on opposite sides of the mast, with a recommended spacing of 14.75 Inches (375 mm) and two more steps should be positioned opposite each other 47.25 Inches (1200 mm) down from the top of the mast for stable and safe working on sheaves, halyards and masthead instruments.
Glass Nylon injection molding
Lightweight and UV resistant
Weight: 5.2 Ounces (165 Grams)
Aerodynamic and snag free profile
No rattling in wind at anchor or mooring
Each step individually tested at factory
Available in White, Black and Gray
Fasteners: (3) 5 MM Screws or Rivets (Sold Separately)
2016 Catalog: